$BlogRSDURL$>
Today is my
uncle's
brother's birthday.
He's
30
...
Can you believe it? It's incredible!
So...
HAPPY 30th BIRTHDAY TA KO KO!!!
Despite your "old/young" age, you look young yourself! I hope you have a great day today trying to count the number of white hair that have suddenly spurted out of your scalp! Nah, just kidding! It's really great to see you stepping into another milestone of your life again!
Do take care of yourself, and have a fantastic BIRTHDAY! Enjoy! :D
---

freshrimp put thoughts into writing at 18:37.
Comments? Whisper 'em! (9 whispered.)
I found this at
Amelia's site
, and I thought I should give it a shot. My results were...what I expected LOL!


You scored as Psychology/Sociology. You should strongly consider majoring (or minoring) in Psychology, Sociology, or related majors (e.g., Counseling, Industrial-Organizational (I-O) Psychology, Social Work, or other social science majors).




It is possible that the best major for you is your 2nd, 3rd, or even 5th listed category, so be sure to consider ALL majors in your OTHER high scoring categories (below). You may score high in a category you didnt think you would--it is possible that a great major for you is something you once dismissed as not for you. The right major for you will be something 1) you love and enjoy and 2) are really great at it.




Consider adding a minor or double majoring to make yourself standout and to combine your interests. Psychology and Sociology are both great minors to add to any major. Please post your results in your myspace/blog/journal.



| | | |
| --- | --- | --- |
| Psychology/Sociology | | 94% |
| English/Journalism/Comm | | 88% |
| French/Spanish/OtherLanguage | | 88% |
| HR/BusinessManagement | | 69% |
| Visual&PerformingArts | | 69% |
| Nursing/AthleticTraining/Health | | 63% |
| Biology/Chemistry/Geology | | 63% |
| Education/Counseling | | 56% |
| History/Anthropology/LiberalArts | | 50% |
| PoliticalScience/Philosophy | | 50% |
| Accounting/Finance/Marketing | | 44% |
| Religion/Theology | | 38% |
| Mathematics/Statistics | | 19% |
| Physics/Engineering/Computer | | 19% |


WHAT MAJOR IS RIGHT FOR YOU?
created with QuizFarm.com
Now, to go through over it. Yeah, I have been thinking of majoring in Psychology too. Or Biology. Or something else which I'm not sure about yet. So why on earth is Biology so low down the table? :P The English and languages part is okay, since I'm quite interested in it too, but never thought of majoring in it! Visual and Performing Arts look interesting, sounds like fun!
And why on earth is Business Management at 69%? I really despise that area of study! :P I can't believe they are higher than Biology or Chemistry. Noo...! The last six are very accurate though, the areas which I am least interested in at the moment.
Yep,
least interested
. Sorry... I already forgot about the idea of being a doctor/engineer or whatever some "high-end, prestigious and oh-my-salary-is-half-a-million-USD jobs" you guys can think up of that guys like me should do.
So kudos to the ... err... Quizmaster? Is it? :)
On the other hand, I just wait for life to tell the answer in like, oh, the next year or 2? Now, the main thing to worry about is O Levels. The whole thing's not that accurate though. :P
This morning's leadership orientation was fun! Met the juniors and I really like them. Hahaha, thanks for organising it! Enjoyed it loads!
---

freshrimp put thoughts into writing at 22:48.
Comments? Whisper 'em! (4 whispered.)
This is a pretty bad way to rev up the blog after a long time of absence. The word "sorry" is getting a little bit cliched now. Nevertheless, I apologise for not blogging for a really long time.
I wish I can blog, but I am now rather dry on topics to blog about and I am simply not in the mood to blog about my trips during my holidays. Sorry (even though they are very long overdue). I think I lost my blogging spirit. I just can
no longer
blog anymore. I don't know why...
This is awfully bad.
Maybe it's time that I move on.
I don't know.
I'll give myself some time to recollect myself, and try to note the interesting happenings of my everyday life (which is virtually nil) which are
blog worthy
. If you don't see any updates from me after a long time, then, I hate to say this, but it's bye bye for me.
But don't worry, I won't be missing in action from the blogosphere. I still have you guys' blogs to read and they're really interesting! I sometimes wonder how some of you can manage to blog everyday! :O
For now, I'm taking a break from blogging. Hopefully, I will keep blogging! Till then, I look forward to see all of you in school and all the best in Form 5!
---

freshrimp put thoughts into writing at 22:38.
Comments? Whisper 'em! (6 whispered.)
This is the conversation I had with Hang Kae Kwang (who I like to call KeKo). It's really stupid and idiotic. Have fun reading!
guardian@ngelz:::: says (11:40 PM):
hi shim
guardian@ngelz:::: just sent you a Nudge!
€£øqûèñt Ïñtrøvërt says (11:40 PM):
HEYYY HANG KEKO
€£øqûèñt Ïñtrøvërt says (11:40 PM):
how r uu???
guardian@ngelz:::: says (11:40 PM):
how your gay life
€£øqûèñt Ïñtrøvërt says (11:41 PM):
stoopid laa u
€£øqûèñt Ïñtrøvërt says (11:41 PM):
it's so ungay
guardian@ngelz:::: says (11:41 PM):
u so uncool
guardian@ngelz:::: says (11:41 PM):
how much u get for your math
€£øqûèñt Ïñtrøvërt says (11:41 PM):
LOLLL!!! how i noee?? so long oledi
€£øqûèñt Ïñtrøvërt says (11:41 PM):
wait let me check
guardian@ngelz:::: says (11:42 PM):
failed man
€£øqûèñt Ïñtrøvërt says (11:42 PM):
72
guardian@ngelz:::: says (11:42 PM):
u think it easy
€£øqûèñt Ïñtrøvërt says (11:42 PM):
nooo, not paper one
guardian@ngelz:::: says (11:42 PM):
k
guardian@ngelz:::: says (11:42 PM):
shim
€£øqûèñt Ïñtrøvërt says (11:42 PM):
yea?
guardian@ngelz:::: says (11:43 PM):
erase that pic
€£øqûèñt Ïñtrøvërt says (11:43 PM):
y???
guardian@ngelz:::: says (11:43 PM):
it so gay
guardian@ngelz:::: says (11:43 PM):
haha
€£øqûèñt Ïñtrøvërt says (11:43 PM):
y u owez kek mee lehhh >.<
guardian@ngelz:::: says (11:44 PM):
why dun u put your naked body pic there
guardian@ngelz:::: says (11:44 PM):
it very cool
€£øqûèñt Ïñtrøvërt says (11:44 PM):
apalarrr uu >.<
€£øqûèñt Ïñtrøvërt says (11:44 PM):
byeee!!
guardian@ngelz:::: says (11:44 PM):
like michael achilelo
guardian@ngelz:::: says (11:44 PM):
watever his name is
€£øqûèñt Ïñtrøvërt says (11:44 PM):
it's angelo
€£øqûèñt Ïñtrøvërt says (11:44 PM):
michaelangelo
guardian@ngelz:::: says (11:44 PM):
like i say watever
€£øqûèñt Ïñtrøvërt says (11:45 PM):
okay i realli gtg now laa stoopid la u
guardian@ngelz:::: says (11:45 PM):
bye
Stupid right? >.<
---

freshrimp put thoughts into writing at 23:47.
Comments? Whisper 'em! (8 whispered.)
10 January 2007
My Room

I am seriously weird and bored. And trying to avoid doing my music theory homework. How I hate answering the composing a 10-bar melody question! Anyway, due to a
request
by
Jia Yean
, and because I have time to kill, I thought...why not?!
Fine, my room wasn't like this last time. Spent a few days last week in the new year trying to straighten up my room, i.e. redecorating, adding new ornaments, general cleaning, freshening up etc., I finally came up with this:
Note: Each picture might take quite some time to load, so please be patient!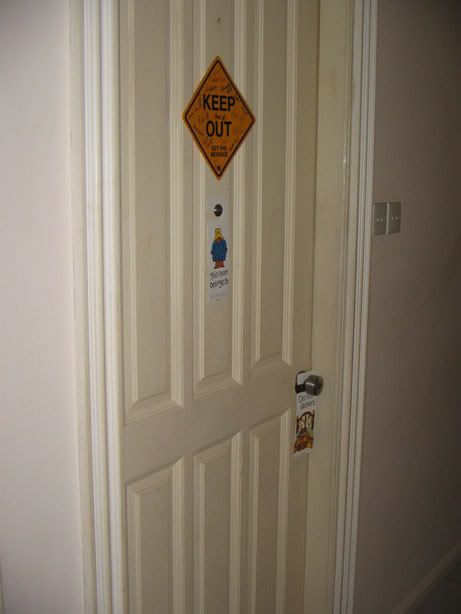 This is the door of my bedroom. Sheessh, why did I even take this picture just to show papers stuck on the door?
P.S. In case you are wondering, I got the door hangers from eBay and the yellow Australian sign is from Australia lah.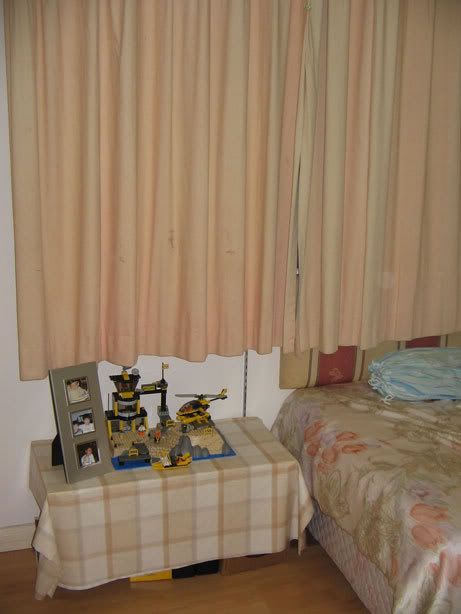 What you first see when you enter the room. Told ya' my room is small!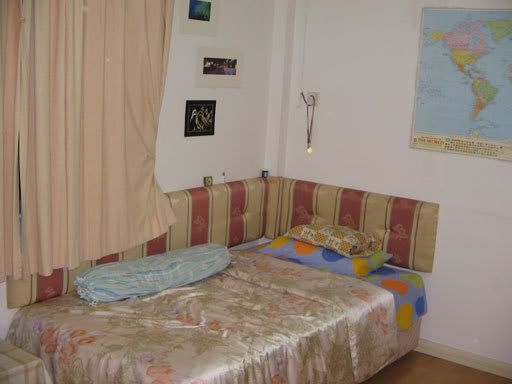 My bed. I know my blanket doesn't match my room, and it is so NOT my pattern/colour at all! But my mom bought it all the way from China last time and since it keeps me warm at night and it is pretty comfortable, well, what more can I do?
By the way, my blanket is always not made properly like that shown in the picture. This is a catalogue view, and of course they must look good, musn't they? :)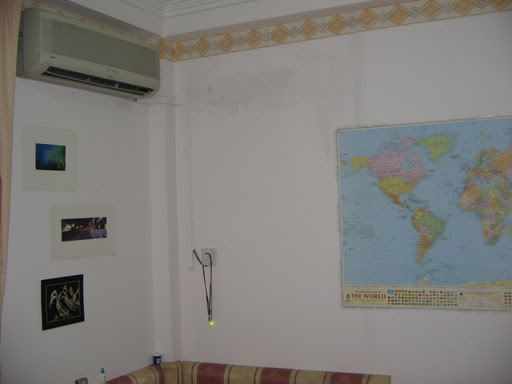 Above my bed. Nothing much, except for a few hangups.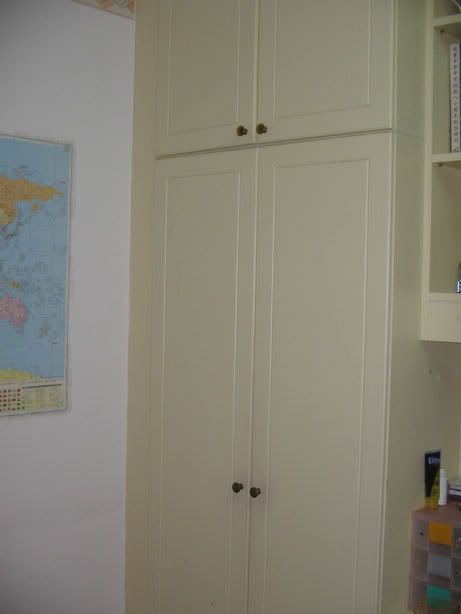 Tall, gigantic cupboards that touches the ceiling of my room. They completely take up half the walls in my room.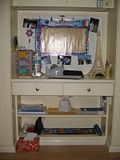 This is what is located to the left of my bed. This desk!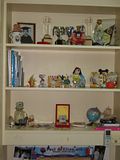 And the tall shelf above the desk, with lots of thingamajigs. Click on the pictures to view FULL SIZE. (So many things...)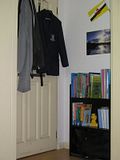 And this is the bookshelf by the door, filled with nothing but school books! (Bottom shelf is taken up by bags - not obvious) I keep my novels and other books in another room...
So yeah, that is my bedroom! It's nothing much, really, and it's really small. Even my bed is not "long" enough. Hahaha...
No, I won't take pictures of what's inside the cupboards and drawers as they are seriously messy. =P And nothing to see, anyway!
Ermm, yeah. So what do you guys think? ;) And I know, Vol'jin and Mushroom, I know you won't like them, so I'll be expecting things like "ZOMGZ" or even worse...the G- word! :P. I need to prepare myself mentally for that.
But yeah. That's that for this blog post. Until then, see you later. And thanks for tagging!
---

freshrimp put thoughts into writing at 21:09.
Comments? Whisper 'em! (7 whispered.)
08 January 2007
Dubai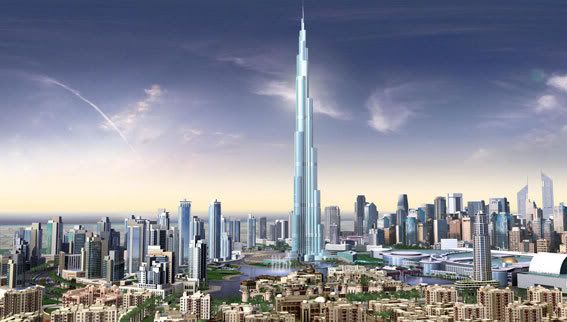 I know you guys think I'm weird for blogging such a weird topic, but just now, I happened to stumble upon this site through forums. And I have one word to describe it:-
AMAZING!
Dubai is such a beautiful, so forward and so neo-modern city! In fact, the image of Dubai matches the image of my dream city! Tall skycrapers shooting up to touch the ceiling of the sky, superb public transportations (rail transport!!!), many buildings tightly compacted in a small area, beautiful city environment, the bustling of city life! Traffic, cacophonies of the city, pedestrians, gridlocked roads and the situation of getting oneself lost in such a big, big city.
OH MY GOSH! I sooo want to live there! Or at least make a visit to there. It's so exciting. I remember seeing the advertisement of the Asian Games in Doha on television while I was in Miri. My goodness, I was really taken aback by the sheer modernism of Dubai itself.
Note to self: must go before I die (!!!).
The link to this site is of course
here
. Prepare to be amazed by one of the world's most beautiful city in the world and marvel at the wondrous architecture. Most of the picture's there are artists' impression but will soon be a reality in the next couple of years. And that IS fast!
I nearly fell off my chair seeing those pictures. I really want to immerse myself into that city's busy life!
And to imagine that this city popped up and developed rapidly in a desert. This does indeed tells us something: Anything is possible.
---

freshrimp put thoughts into writing at 20:21.
Comments? Whisper 'em! (6 whispered.)
Hey guys! I know I haven't been blogging much lately because well, nothing interesting has happened as of late. Things have been going on pretty slowly and I fear that once school begins, my life will become one hectic rush and the Olympics of my life.
Okay, so maybe the Olympics thing is just one big exaggeration!
If my memory doesn't fail me, this is what has been going on in my recent sedentary life: my eyes falling in love with the PC monitor and the pages of novels that I bought in Australia. If you guys are looking for a good read and you can only buy one book, I recommend For One More Day, by Mitch Albom. This novel, like all of Mitch Albom's, is very life-enriching. The story talks about a guy whose life has hit rock-bottom and attempts to commit suicide. He was drunk-driving and landed himself in a bad accident. And on his verge of death, he met his mom who was already dead. And from there, he spends a day with his mother who showed him that there is more to life. Very good book!
Okay, I know I'm not a fantastic reviewer but take my word for it. ;)
Besides reading, I played and tried a game NOT related to Sims! My eBay career, on the other hand, has hit rock bottom. Until Brunei PayPal accounts can receive money, I won't be selling things. Of course, I will still shop lar! Hey, the things there are so much better than the over-rated The Mall.
Let's see what else. Oh yeah, two days ago, Steven and I went to catch "Night at the Museum" which was showing at, where else, The Mall! But before that, we had lunch at Excapade Sushi (thanks Kim for bringing the family there). The food was great, as usual. And I tried eating sushi for the first time! And its taste still tingles at my tastebud. Ugh, it gave me the goosebumps just trying to imagine it's weird taste and soft, squishy texture! I shall stay away from orange sushis!
Night at the Museum. The show was AWESOME! The comedy was never-ending and it doesn't tire at all! I guarantee you will be laughing all the way
to the bank
to the end! And the twists in the movie were truly unexpected and welcomed! Remember the T-Rex you saw at the trailer? Yep, he did something so shocking it made us all laugh!
Hey, Steven, sorry if I laughed out too loud yea? :P Couldn't control it lar!
This movie does teach you a couple of prominent facts in history. So it's pretty educational as well in some parts. Like Theodore "Teddy" Roosevelt, the American President helped built the Panama canal and is an enthusiast in history himself. And Attila the Hun likes to rip people's muscles off! The language he speaks is too funny! And the Chinese came to America during America's Gold Rush.
There's this one scene which I think is the most funniest of all in the whole movie. It went something like this (not exactly):-
Sacajawea, the Native American lady) looks at the snow with tyre tracks.
Larry (the main actor): Do you know where the truck has headed?
Sacajawea: (looks closely at the ground and studies the wind) The truck went (can't remember where) and it went east.
Larry: (frowns intently) You're good! How did you know?
Sacajawea points at the corner in front of them where the truck stopped.
STUPID LAHHH!!! >.<
Plus other very hilarious scenes. And what do I learn from this movie?
Moral: Never underestimate old men!
Hahaha! You have to watch the movie to know what I mean! SO GO WATCH, PEOPLE, BEFORE IT DOESN'T SHOW ANYMORE!
This is one movie that is worth every single cent of my
$2.50
$5.00 (thanks to Steven for pointing out my pricing error!) and 2 hours.
Can't wait to watch more funnies! =D
So yeah, that's basically what I have done. That explains why I don't go online so often nowadays. And I want to apologise to my frequent readers; Vol'jin, Kim, Jim, Steven for constantly keeping this site alive and active through tagging and commenting and also, to be disappointed with the lack of blog posts when you guys come here each and every single day. So sorry! It's just that, there isn't anything blog-worthy that happens in life nowadays.
Well, I got to go. I need to catch up on my reading
and homework, zoinks
!
---

freshrimp put thoughts into writing at 20:26.
Comments? Whisper 'em! (3 whispered.)
If you work in Brunei Postal Service Department, please, I really need your confirmation on how much is it to send a 300g small packet to Canada. I was told that it costs $36!!! And if is sent by parcel, the same weight, shipped by surface mail, I know it cost $15.90, but it takes 3 months
just
to arrive there?
My gosh, even the books I order from Amazon.com isn't that expensive to be shipped here.
Great, so my $8.00 book will be worth $44 when it gets there...
How am I suppose to tell my buyer? Opt for the cheaper shipping price and wait for the book to arrive? Or tell him to settle on the more exorbitant shipping costs, and the item might arrive there in...less than a month or so?
Damn, I'm screwed. I'm sorry to even began selling internationally. I'd much rather be a buyer from now on.
Malaysia and Singapore Posts offer cheaper costs. Malaysia is just RM 21.40, while Singapore offers a cheap price of just $10+.
Great, I can imagine how the invoice would look like.
Book - US$4.26
Shipping costs - US$24.00 <-- HAHAHA!
He must think I'm a scammer. I'm not surprised if he decides to back out.
I guess I have to tell him to be patient. 3 months isn't very long now... IS IT?
Advice from friends, eBay-ers and Brunei postmen please! =(
ADD
: Great! I've just found out the buyer can't send the money to my PayPal account? Why? I only realise (he told me, and I also checked out PayPal help) that Brunei accounts can only send money. So that means I can't receive any money AT ALL! Great!
WHY?
And I can't really ask my brother's girlfriend as well; she won't be home tomorrow until a long time. Fat chance seeing her online at this hour.
I just don't know what to do. Somehow, I feel sorry that I began selling now.
---

freshrimp put thoughts into writing at 11:23.
Comments? Whisper 'em! (8 whispered.)